Our Wine In Colorado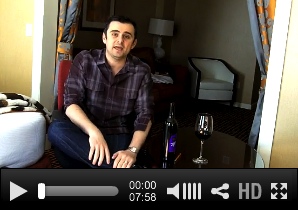 Watch Gary Vaynerchuck review our wine
Guy Drew Vineyards is located in McElmo Canyon, south west of Cortez Colorado. It was founded in 1998 by Guy Drew and his wife Ruth, after ending their corporate careers in Denver. What began as a hay farm gradually transformed into one of today's most acclaimed Colorado wineries. Today, their mission is to make unique and amazing wines that embody the beauty of Colorado. They also strive to give memorable experiences to all the visitors of the winery everyday from noon to 5pm.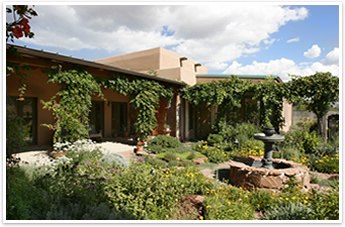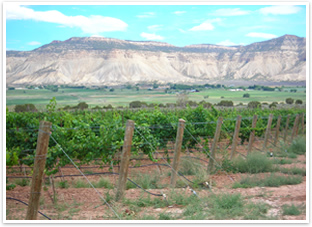 This area was an ancient Anasazi trade route and historical fruit-growing region in Colorado. Just south of the winery the Ute Reservation and legendary volcanic Sleeping Ute Mountain rises to nearly 10,000 feet. North of where the wine is grown, the canyon of the Ancients National Monument begins. Here the rim rock in the distance, located on the Mesa Verde, provides a spectacular view.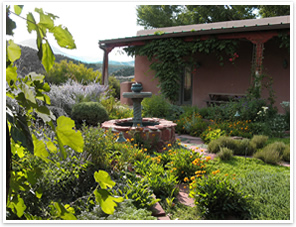 The vineyards on Guy Drew Vineyard's 155 acre property are carefully sited to preserve the high desert piñon, juniper landscape, and riparian wildlife areas. They painstakingly grow their wine with methods to preserve the numerous Anasazi ruins, promote land stewardship, thoughtful growing practices and thrifty use of natural resources. This allows Guy Drew Vineyards to continue it's mission of crafting the best Colorado wine, while safeguarding the future of its' historic surroundings.
Our Winery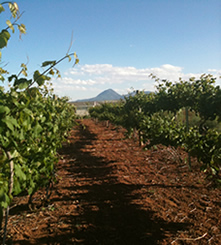 Guy and Ruth completed the 2,500 square foot pueblo- style straw bale winery and began constructing the vineyards by early 1999. This original winery had a barrel room, lab, tanks and a small space for the future grape crushing activities. Guy Drew Vineyards was licensed to produce wine in Colorado by year 2000. Eventually, they outgrew their original facility and have added a 1,400 square foot covered crush pad, tank storage space, and a 3,500 square foot barrel and case storage building.
In early 2003, Guy and Ruth purchased a bottling line fully equipped with heaters and dehumidifiers to accommodate the increasing production of the vineyard. This had the added benefit of allowing them to sterile bottle the wine, which is a process essential for wines that have not gone through malolactic fermentation or have residual sugar. This bottling line runs at a speed of about twenty-four bottles per minute and has the capability to use both cork and screw caps. With all these ongoing improvements, The Guy Drew Vineyards is constantly encouraged by the ever increasing quality of their wines. They believe that now more than ever, it's a exceptional time to enjoy the wine in Colorado.
New Tasting Room Now Open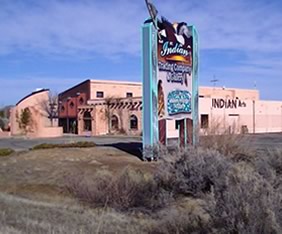 We have partnered with Mesa Indian Trading Company & Gallery to open a new tasting room at their location on the east side of Cortez at 27601 E. Highway 160. Hours are 1pm to 6pm, Tuesday thru Saturday, May to mid October. Higher traffic, a desire to promote the City of Cortez and agri-tourism in general were the driving force for opening this location. The winery tasting room will maintain it's regular hours. Visit the new location for Happy Hour from 1:00pm to 6:00pm Tuesday thru Saturday with Happy Hour from 4:30 to 6:00pm offering $2 off wines by the glass.